These shoes and uniforms are for the Harvest Dinner on November 17 run by
Project R.I.S.E., the only group in Akron solely dedicated to helping homeless kids.
 It's a special dinner for local kids experiencing homelessness.
THIS FUNDRAISER IS GOING TO END FRIDAY NOVEMBER 4

so we'll have time to get the supplies.
We had an awesome donation from a woman how put out a challenge for ALL Akron Schools Administration to match her donation of $50. That would be amazing! If you know any Akron School Administrators it would mean a great deal if you could pass this post on to them. 
Here's one of the coolest things about society: There are people in our community that $50 leaving their bank account will mean almost nothing. And then there are people where $50 will change their lives.
Sometimes I try to imagine what it's like being a homeless kid.
You don't know where you're going to sleep.
You don't know how you're going to get to school.
You don't know how you're going not look like the "homeless kid."
You really aren't even sure when you're going to eat next.
The chaos of that situation has got to be brutal for a young person.
But we as a community here in Akron can make a huge difference without doing much.
One way is to help these kids have shoes and uniforms for school. If you aren't aware, Akron City Schools requires all kids to have uniforms. There's one more thing these kids can just add to the pile of stress: "Where is my mom going to get the money to buy me a uniform so I don't get in trouble at school and, once again, not fit in?"
This is where things start to get really cool. If you have kids you might know that shoes can be really expensive. But what you might not know is, if you look around a little you can find amazing deals on shoes. Check out these New Balance shoes on clearance for $5.99:



Because we buy shoes in quantity, we can usually find a lot of shoes for a very little amount of money.
100% of the money that goes into this program goes to buying shoes and uniforms. There is no administrative overhead that comes out of this program.
Also, if you are wondering about our credentials, you should know that we are a "Certified Charity" on GoFundMe and we are an approved 501(c)(3) public charity through the IRS.
Long Story Short: PLEASE CLICK HERE TO DONATE A LITTLE TO OUR FUNDRAISER.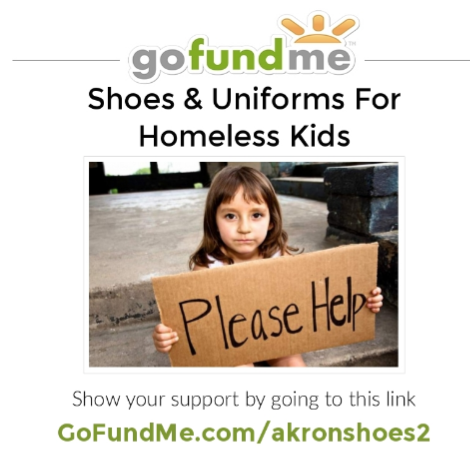 The homeless kids of Akron will thank you.