Meet Joe and Angel
Joe and Angel live outdoors. Angel is about to give birth at any minute. They need propane for their propane heater. They are 2 of countless people in Akron Ohio that are living outdoors with no heat. (I'll talk more about them down below.)
We can refill a propane tank for $12. Would you be willing to sponsor a propane tank for the homeless of Akron this winter? If so, just click this Donate button:
We can refill a propane tank for $12. We have plenty of tanks. We just need to get them filled. If a person is careful, a single tank can last one month.
We have people living in tents, people living in abandoned houses, people living in stairways. A heater with propane is life changing.
Become a sponsor of a propane tank and help keep a person, or a couple (and sometimes their pets) stay warm this winter.
More about Joe and Angel:
These two people defy the stereotypes of what society often thinks about when they think about homeless people.
When I have a plumbing leak I call Joe. He has a lot of experience and will always fix the problem, whatever it may be. He's also a great mechanic. People often bring him their car to work on. I've also had the opportunity to meet his family. He comes from a great group of people.
And Angel… Angel is the most thorough and FAST cleaner I've ever met. I've hired her to clean the bathrooms of our building weekly. I can't even describe how she does what she does. Ask anyone and they will agree… she defies physics. I truly can't figure out how she cleans so fast and so well. It's amazing.
I've known Joe and Angel for quite some time. They lived in our tents at our village. And they now live outdoors hiding from the nuisance inspector so they aren't forced to move while Angel is pregnant.
The question I'm sure you are asking is: Why are they homeless?
Without getting into personal details, I'd say it has to do with mental health issues. Particularly Joe has some struggles that make it difficult to navigate a traditional work landscape. He may disagree with that assessment. And I definitely could be wrong. But if I had to guess, I'd say that at least part of their chronic issues have to do with mental health.
I don't feel like I'm saying anything that is divulging too much personal detail considering I believe that probably 100% of homeless people are experiencing some form of mental health issue. The trauma of being homeless creates mental health issues if you didn't already have them when you wound up on the street. And the longer they are on the street the harder it becomes to unwind those issues.
Between having no steady income, personal struggles and getting stuck in a long term houseless lifestyle it becomes MUCH more difficult to move out of houselessness than it does to just fight the elements and the daily struggles of living houseless.
We are learning (Ashleigh Hughes, our community director, is developing some truly innovated psychological theories on the cause and perpetuation of homelessness) that we are seeing common, recurring themes of trauma in the homeless population that often extends back into early childhood. This trauma then continues into adulthood and is compounded by the trauma of living on the streets. This then evolves into significant PTSD.
In fact, we are finding the rates of PTSD found in violent inner cities are comparable to the rates found in veterans of the wars in Iraq and Afghanistan. The National Alliance to End Homelessness has created a paper, "Addressing Post-traumatic Stress Disorder Caused by Homelessness" if you'd like to learn more about this.
But the active treatment of trauma in the homeless population has a long way to go. We all have a great deal to learn.
What we know is this: we have to attempt to stop traumatic events from occurring. Sweeping homeless encampments with no alternative in place is a major contributor to trauma. Those actions by themselves are likely to cause significant PTSD that will require long, expensive, ongoing treatment.
Not having heat is also a significant contributor to trauma. There is always a very real risk of dying when the temperature dips too low.
A propane tank and heater instantly end that incredible fear from perpetually recurring.
We MUST put a shelf under the homeless population to fulfill the 2 "Basic Needs"in Maslow's Hierarchy of Needs: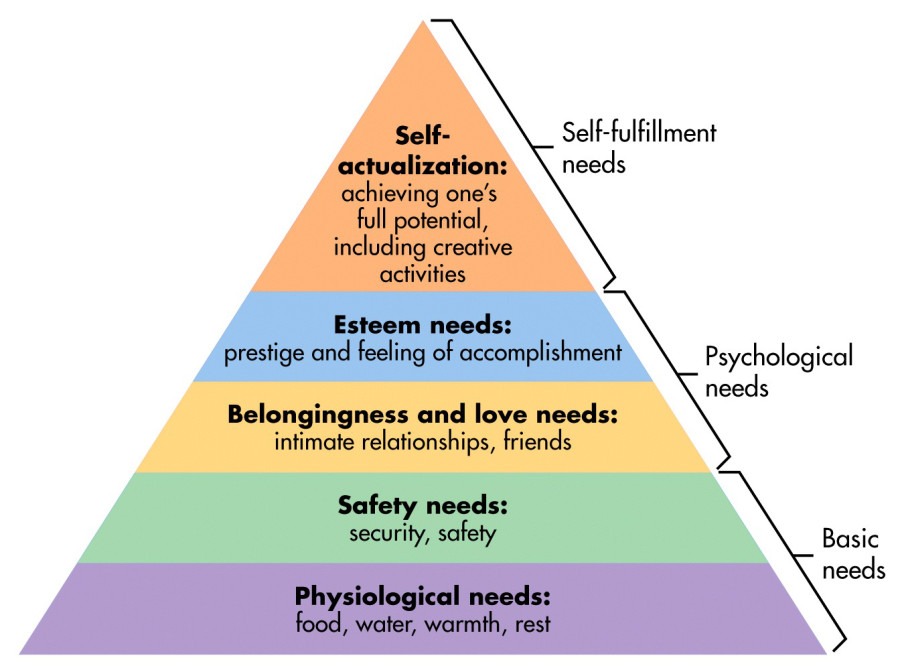 If a person does not have their physiological and safety needs met they will likely never be able to think about getting things like their birth certificate, ID and social security card (all items that are required to get on the list for housing and to get a food card and get health care).
If you contribute to our "Sponsor a propane tank" program you are doing more than just giving life saving heat. You are removing a highly traumatic recurring event from these people's lives.
Only when we can consistently make sure that a homeless person has food, water, warmth, rest, safety and security can we ever expect them to take the steps needed to begin getting into a house.
Instead of calling it "Housing First" we really should call it for what it is: "Birth Certificate, Photo ID, Social Security Card First," because "Housing First" never starts without those 3 items. And those 3 items never come unless we can provide a basic form of human needs on the streets.
We can refill a propane tank for $12. We have plenty of tanks. We just need to get them filled. If a person is careful, a single tank can last one month.
Please consider clicking the link below to become a sponsor of our propane tank program: