---
The best way you can support the work we do at The Homeless Charity is by becoming a Patron for as little as $1/month. It shows the government people care about the homeless and it helps us manage our budget a lot easier. Please click here: Become a Patron!
---
One of the top questions people ask me is: I'm supporting you but I'm not really sure why.
In all fairness, I didn't have a great answer for most of this year.
My knee jerk response has always been, "you are helping a great deal renovating our 2 transitional houses."
We have up to 12 spaces in two houses that are specifically for chronically homeless people.
Here are some numbers pulled out of our profit and loss statement this year:
Contractors: $9,876.75 – these are people that we paid to renovate our houses. Except when a licensed contractor was required we ALWAYS hired homeless people to do the work.
Repairs & Maintenance: $17,104.03 – This is materials we bought at places like Swan's Hardware (we always try to support our local community stores whenever possible) and Home Depot. We just bought a new high efficiency furnace for one of our houses, for example.
Utilities: $9,102.02 – We had a lot of first year expenses for repairing utilities that had been tampered with or needed inspected and updated before some utilities could even be turned on.
I will be detailing all of our expenses the first of 2020. But these are things that were only possible because of YOU.
Getting 2 fairly dilapidated houses a clean bill of health from the housing inspector is expensive and quite involved. (One house we purchased we found out the day we signed the paperwork that it was on the condemned list.)
Our red house is completely off the housing inspector's list. And our Arlington house only has 2 more items left to get cleared. We are REALLY close to having that house off the inspector's list.
I'm really optimistic about using rundown houses as transitional housing for chronically homeless people. It has a whole host of difficulties that are unique to this group of people. But I believe they are very solvable.
But in my mind, this doesn't really satisfy the question of: "What are we supporting?"
Truth be told, pretty much anyone can take some homeless people and stuff them into a house. It won't be pretty and it won't solve the real issues these people are facing. But you could do it.
I have been through some dark times in my career. But this year might go on record as being the darkest journey I've ever been on.
First we lost our tent village. And then we lost our entire day center.
I am a creator. That's what I do. I make things. Watching the government of the United States of America come in and destroy everything I had gotten the incredible honor of watching homeless people create changed me. It cast a dark shadow over the entire world.
I was lost. I was disheartened. I was mad.
I was thrust into the desert against my will and I had no idea how I was going to get back.
I have found, however, that there is always another path that opens up. There is always "the next phase."
In many ways, that came in the form of an 18 year old woman named Ashleigh Hughes.
We were supposed to do a festival in the summer. I was so exhausted and distraught that I didn't feel I had it in me to put a festival together.
Ashleigh swept in and made the 2019 Middlebury Festival happen.
You can see all the pictures I took from this year's festival by clicking here.
There are actually 3 young people that have entered my life that have helped remind me that there is always great hope and wonderful things in the world. Sometimes you just have to look for them a little harder than at other times.
As we move forward we are realizing that what we stumbled on in the very beginning is really who we are at our core. We are a community.
Our tent village wasn't just a bunch of tents in some guy's backyard. Our village was a community of people that worked together for a common cause. No one was better than anyone else. No one was asking anyone to be something they weren't. We all were equals creating a place where homeless people helped homeless people.
Ask ANYONE who lived there and they will tell you the same thing: We were a community. We were a family.
We have just recently approved a new mission and vision statement that reflects this realization. You can read it here if you want.
In our heart of hearts, we at The Homeless Charity know that the houseless community are worthwhile and valuable citizens and they deserve every bit of dignity and respect any of us deserve as American citizens.
We are going to create a variety of events and programs to help remind our houseless neighbors of their worth and dignity (because they often have been robbed of those things along with everything they own).
And we want to show the rest of America the truth of houseless people… that they are capable and talented and gifted and hard working and they deserve a place in our community.
Ultimately we look to break down all barriers that separate the houseless and the non-houseless. We are all just people.
A big part of this is our micro-enterprises. For example, we just had a candle making session yesterday.
Check out this candle that Patty made: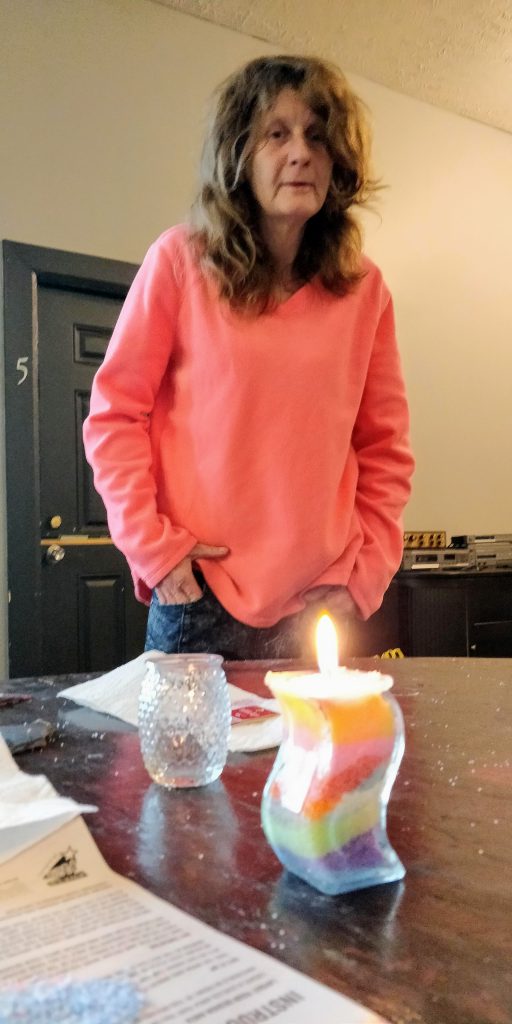 Her candles and a bunch of other houseless-made items are going to be for sale at our Friendsgiving event that is coming up this weekend.
We would LOVE for you to come and join us. It's a beautiful event. Click here to learn more.
The only way we are ever going to solve the homeless epidemic in America is to meet these wildly misunderstood people where they are today and help them move forward in a way that is meaningful and interesting and dignified for them.
For example, we have some really fun events coming up through the month of December we are calling our Giving Season Celebration Event Series. Click here to check them out. We'd LOVE for you to come join us.
This new vision is going to look like more events and more work opportunities.
The ONLY way this is going to work is with your continued support. And I'm not just talking about money. I mean helping us through joining us at our community events and volunteering in areas that are meaningful to you.
I'm truly inspired and excited about where we are headed. We have so many really cool ideas brewing.
So, my sincere hope is that you come with us on what I believe is a revolutionary way of treating a condition we call homelessness.
Thank you for everything you do.
---
The featured image here is Virginia and Terri heating up wax for the candles they were making.
---
The best way you can support the work we do at The Homeless Charity is by becoming a Patron for as little as $1/month. It shows the government people care about the homeless and it helps us manage our budget a lot easier. Please click here: Become a Patron!
---